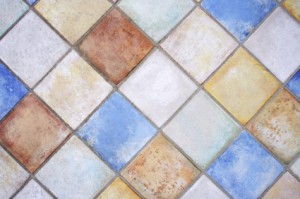 Ceramic tile is widely adaptable, affordable, and suits any number of settings. It's obviously ideal for kitchen and bathrooms where spills are common, but it also works well in living rooms, hallways and bedrooms. All it takes are a few comfortable throw rugs to make tile suitable for living and relaxing. Practical and cost effective, tile has many advantages for the Plymouth homeowner. Consider these benefits of ceramic tile.
Easy maintenance
You'll never find any floor that's completely maintenance free, but ceramic tile is relatively free of hassles when compared to other types of flooring. Aside from the occasional sealant every few years or so, tile requires only regular cleaning to shine like new. If grout is installed correctly, tile will be water-damage resistant. You can practically take a hose to it if you need to. At any grocery store you'll find a wide variety of household products to keep your tile a clean as the day you installed it.
Affordability
When you add up the dollars, tile is easily one of the most cost-effective floors available. Weigh up the initial costs against the longevity, and you'll find that tile clearly offers the best "dollar per mile" of any flooring option. Considering the simple maintenance and upkeep that's required, tile has real value. It is affordable as well as functional, yet you have so many options available that tile can suit any style.
Variety of installation options
With tile, the only limit you have is your own imagination. Flooring is one option, but tile doesn't have to stop there. Ceramic tile works great for countertops, back splashes, porticos and murals as well. In fact, you can use tile as a theme throughout your home to create an appealing unified design that complements the furnishings.
Durability
Ceramic tile was widely used in ancient Rome because of its durable reputation, and tile's legacy for lasting continues to this day. It's ideal for hard traffic areas because it's strong and resistant to wear. While Rome first used tile in a utilitarian manner because of its functionality, the Romans also discovered its decorative beauty and used in artwork that still captivates today. Though it's not impact resistant, it lasts a long time. If it cracks, it's also a lot easier to fix than hardwood or stone floors.
Although many homeowners opt to install their own ceramic tile,  hiring a professional Plymouth remodeling contractor for the job will ensure that every aspect is done correctly and will save you the trouble of cleaning up.