Ceramic Tile Services for Your Plymouth Home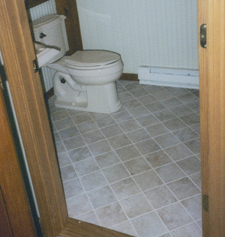 Ceramic Title & Bath Remodel
Bathroom tile floors
Kitchen tile floors
Entry way tile floors
Counter tile back splash
Basement floors tiled
Tile repairs
Grout repairs

As an experienced tile setter I install many types of tile to walls and floors. There are many differences between a M.E. Construction installed tile floor and what you might get from a big box store. I always remove the baseboard instead of tiling up to it. Tiling up to it creates a shorter baseboard and an extra unsightly grout line that will always crack. I always use cement board underlayment. All of the cracked floors I repair have a common luan underlayment. I am skilled in carpentry in case of sub floor rot or squeaks. I will reset your toilet with confidence. Most tile setters will pull the toilet and then tell you to get a plumber to put it back. I have several trade secrets that will give your new tile floor the Wow factor. Call M.E. Construction, your Plymouth, MA area tile installer for your next quality tile project.

Recent Ceramic Tile Articles
If you're looking for a professional Plymouth ceramic tile flooring contractor, then give us a call today at 508-566-6087 or complete our request estimate form.