Are You Looking for Drywall Repair in Plymouth, MA?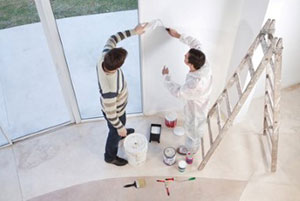 If you are in need of Plymouth drywall repair, then call on the expert at M.E. Construction. I am a full service construction contractor that can do drywall repairs and a whole lot more. Contact me today and I'll get started on your walls. You'll find that my prices are very competitive and I offer incredible customer service as well as being likeable.
You don't have to stare at those holes in your wall any more. Contact M.E. Construction today. I have over 30 years of experience and want to pass that expertise on to you because when it comes to the pros I'm it. There's no other contractor, in the Plymouth area, that offers drywall repair like I do.
If you think that all drywall repair is is just filling in the holes with putty, then you're all wrong. Yes, putty will work but it's only a temporary fix that can result in future damage to your walls. I'll fix the holes in your walls so they don't ever happen again.
At M.E. Construction, I even sand your walls for you. Sanding them helps eliminate any bumps or imperfections on the wall. Contact me today to find out more about our amazing drywall repair service. If you've never thought possible, think again.
The only Plymouth drywall repair specialist that you need to call is M.E. Construction. I am locally owned and operated so you know that I work within the community to provide more of a casual service.
Contact me today. If you are remodeling a room in your home and have encountered holes in the drywall, then you should contact M.E. Construction today. Ia m the leader in drywall repairs and a whole lot more.
Do yourself a favor and make your walls look as good as they did when you first bought your home. You can easily do this by calling the expert at M.E. Construction. You are really going to appreciate the work I do even more.
I'll make sure that your home looks its best this year. Make it a monumental year by calling in the expert to have your drywall repaired. You won't find a more reasonable and reliable construction contractor in the Plymouth area.
Take my advice, call me for you drywall repairs. If you've had issues with other drywall repair contractors in the past, then obviously you haven't utilized my Plymouth drywall repair service yet. I am fully licensed and certified to get the task done.
The following are drywall repair services that are offered in Plymouth:
Drywall Repair Service
Drywall Contractor
Drywall Repair Specialist
Drywall Repair Experts
Contractors Construction Services
Remodeling Specialists
Painting
Painting Specialist
Kitchen & Bath Remodeling
If you're looking for a professional Plymouth Drywall Repair contractor, then give us a call today at 508-566-6087 or complete our request estimate form.