Why You Need A Duxbury Deck Railing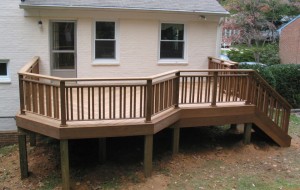 The deck and the railings go together. A Duxbury deck without a railing is unsafe and it may even be out of the building code. If you are not following the codes for Duxbury deck railings, you expose yourself and others to unnecessary danger.
Why take chances? build the deck railings.
Code On Duxbury Decks And Railings
Some times, we tend to have a lower deck railing height than the building code requires us to have. This should not be allowed.
The building codes in various states are different but most of them agree that if you have a deck the is above 3 feet from the next horizontal surface, you need to have a fall protection.
A wall (not necessarily brick and mortar it wall, may even be a wooden wall or PVC wall) can be used in the place of a deck railing, but is generally avoided because walling material is costly, blocks the view, has a higher weight for the same length, and does not increase safety any more than deck railing.
Choices Available For Duxbury Deck Railings
The main reason for putting up deck railings is safety, but the elegance provided by Duxbury deck railings adds to the visual appeal of the building. Multicolored railings can also be used for giving a distinct look to the building. The choices of materials are aluminum, PVC, wood or even a combination of all the three, but the combination is very rarely used.
Requirement Of The Railings
When installing the railing, the two important to keep in mind are,
1. Height of railing:
The height of the railings should be as directed by the code for the type of material you are using. The height requirement may be given in the code of your city or the state. In general, the height is never less than 30 inches.
2. Construction of the railings:
A railing would have posts at specific intervals directed by the building code in your city and depending on the material, you intend to use for the Duxbury deck railing. The design will be based on the strength of the material used. A Duxbury deck railing would have a bottom rail a top rail and the verticals. The verticals should be so spaced that a child cannot slip through it.
A bottom rail is used for making it elegant and keeping the costs down. A vertical will otherwise to be anchored to the ground. The top rail may be a single one or two within a distance of about 6″. If two railings are provided, it gives you additional strength and the lower rail becomes a convenient place to attach the verticals.
If you're looking for a professional Duxbury deck builder, then give us a call today at 508-566-6087 or complete our request estimate form.